Dental Implants in Toronto
Dental implants are fabricated in order to aid patients gain full smiles, including solid foundations for missing teeth that look and operate like biological teeth. Patients having lost teeth can regain their ability to eat practically any of their favourite foods and can smile with pride and flaunt a natural looking smile.

Patients who wear dentures tend to limit their diets to soft foods to avoid interfering with their dentures. If this your case, we would like to remind you of how biting into an apple, chewing steak, or eating corn on the cob can be thoroughly enjoyed once again, with some help from dental implants.

Dr. Martin Sterling, Dr. S. Allen, Dr. Z. Ouzounian implements dental implant restorations. The initial phase consists of affixing an anchor to the jawbone. The next step consists of attaching artificial teeth to the anchored implants (anchored in the bone) below the gum line.

The bone becomes affixed to the titanium, establishing a powerful foundation for the new, artificial, teeth. Further, implants can aid in preserving facial osseous structure, preventing the bone degradation that takes place when adult teeth are lost.

Once the anchor is surgically affixed in the jawbone, supplementary bone and gum tissue grow around the implant, firmly fastening into place.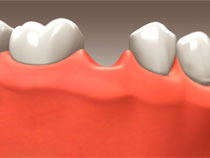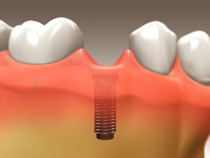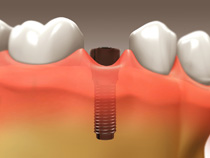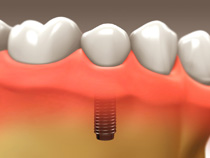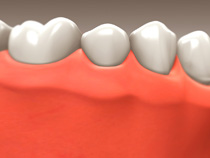 oral surgeon
will unveil the implants and affix a miniscule healing collar. The doctors will then be capable the construction of your new teeth. An impression is taken, initially. We will proceed to insert posts or attachments to the implants. The replacement teeth are then fabricated and affixed over the posts or attachments. The procedure takes six to eight months in its entirety and the majority of patients do not suffer from any disruption in their day to day lives.